Basics of Cryptolens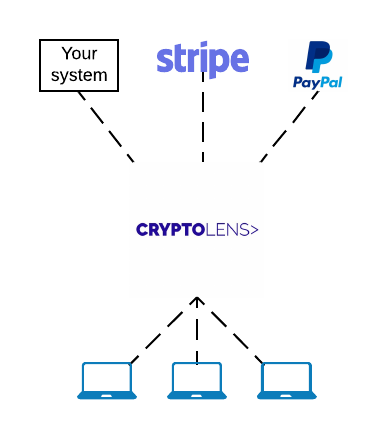 Cryptolens is a software licensing platform that does the following:
Licensing: keeping track of all instances of your software. For example, you can restrict which features a customer should have access to, on how many devices they should be able to run the application, keep track usage of individual features as well as ensure that a license stops working after the expiration date.
Payment processing: automating selling of your software, either through Cryptolens (supports Stripe & PayPal) or by integrating it with external payment providers (e.g. FastSpring or your own system).
Analytics of usage data: Analyse the usage of your software globally or on user level.
Cryptolens Platform
Cryptolens platform is accessed through the app.cryptolens.io. This is the central place where you can control all your applications. It allows you to:
Implement licensing
Process payments
Analyse usage
Cryptolens Client API
To make sure that your applications can communicate with our server, you can use one of our client libraries. A client library provides an implementation of all the methods of the Web API as well as several other methods that are useful. A client library is not necessary to be able to verify a license, but it makes it easier.
By adding a small code snippet (read more here), it enables you to translate your licensing model into simple logic, as shown below:
if

(

license

.

HasFeature

(

1

)


          

.

HasNotExpired

()


          

.

IsValid

())




{


    

// do something




}




else




{


    

// invalid license.




}



Next